Please go to Handball Information to find out about the current 'Talent Search Program'
We invite you to take a look at our site and hopefully learn a little more about the ever growing an popular sport Handball. If you know limited knowledge about handball or want some information about how to join a club, this is the site for you, even if you dont live on the Wirral.



As a newly developed site, there will be added information daily. As well as information about our club this site will contain information about our National Team, currently holding trials.
Weymouth Beach Handball, 14th July 06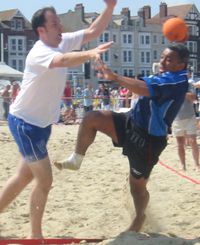 The English Beach Handball Championship throw off this Friday (21st July) with some of the country's best beach teams making the trip to the Dorset resort of Weymouth.
The men's competition will see Great Dane (two teams), Olympia (two teams), Heathrow, Liverpool and Speke Garston (Liverpool Hope) competing for this year's title.
In this year's new mixed category the Squirrels from London (two teams) will take on Oxford University, Southampton University, Nottingham University, Bristol, Deva, Olympia and Wirral.
Match schedules will be available on-line from Monday 17th July on the England Handball beach handball website.
The action starts at 4.00 pm on Friday on the main beach in Weymouth. Spectators will be made very welcome.